Thailand is a country with spectacular sea and beaches, amazing tropical vegetation and stunning sights. Thailand is located in the centre of Southeast Asia between the Indian Ocean and the South China Sea. It offers well functioning services, friendly people, great food and exotic charms of Thai temples and the underwater world. It guarantees an unforgettable exotic holiday.
Thailand, or the Kingdom of Thailand is a constitutional monarchy where the King is the head of state. The original name of the country was Siam. The capital of Thailand is Bangkok (in Thai Kruhy Thep). It is the largest city in the country and the centre of trade and industry.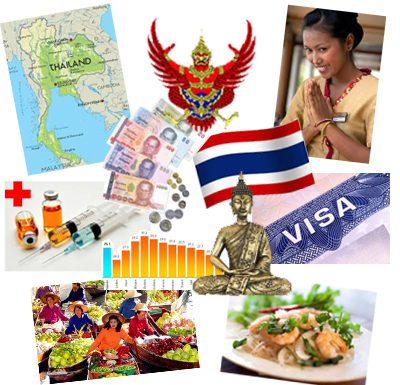 Location and geography:
Thailand is located in Southeast Asia and it bathes in the Indian Ocean. From the east side is the South China Sea (Gulf of Thailand) and from the western side is the Andaman Sea. Thailand borders with Laos, Myanmar, Cambodia and Malaysia. Its area is 513.115 km2. Administratively, Thailand is divided into 76 provinces, each headed by governors. The outline of the country resembles the head of an elephant. Thailand can be divided into 5 parts (northern Thailand, Northeastern Thailand, Central Thailand, the east coast and southern Thailand). Even if they are not administrative divisions, these areas differ with their climate, natural conditions, the history and traditions.
The north of Thailand is a mountainous area. The highest mountain in Thailand is Doi Inthanon with a height of 2.576 m above sea level. To the south, the mountains are lower and much of the area is covered with tropical monsoon forest. The southern part of Thailand, which lies on the Malay peninsula is mountainous. In this area is mined tin and is famous for its beautiful beaches and islands like Koh Samui, Phi Phi or Phuket, which attracts many tourists here.
The longest Thai river is the Mekong River, which forms the greater part of the border with Laos.
Climate:
Thailand has a tropical monsoon climate with three seasons (hot season and wet, cold and dry season, and the third is the rainy season), the temperatures are all year-round on average around 30 °C. April and May are the months when the temperatures are high throughout the year, in average reaching 35-36 °C. In June comes the southwest monsoon, which brings the rainy season until about the end of October. In this period is the highest agricultural activity in the country (planting rice, etc.). But in the south of Thailand brings rainfalls and winter monsoon. Even during the rainy season Thailand is suitable for tourism, rain lasts only either for a short time (1-2 hours) or it rains overnight. In the period from November to March temperatures are slightly lower and there is no rain, which is why this period is the best time to visit Thailand. After the rain stops, the landscape is beautifully green and waterfalls and rivers have enough water. From the perspective of Europeans, Thai weather has no major fluctuations. It is true that the more you move to the south, the shorter the dry season.
When to go to Thailand:
High season is from 1st November till 31st March in regard to the dry period without rainfall and temperatures are above 25 °C. Top season is normally between 20th December to 15th January, when it is the most attractive time for tourists to come and visit Thailand, but of course this period is the most expensive. You can visit Thailand all year round, including the rainy season (it is not raining constantly), when there are fewer tourists and it is possible to comfortably travel around the areas and get to know better the life of local Thai people and their culture.
The main tourist localities: Bangkok, Pattaya, Chiang Mai, Phuket, Koh Chang, Krabi, etc. For divers is suitable to visit coral area Tarutato (it is also a national park).
Residents:
Thais are always smiling and proud people. Thailand's Population is 62.350.000 (2006 estimate). Mostly of the population are Thai (75%) who inhabit central Thailand, the northeast then lives LA engine, in the north of the mountains live different "small nations" a nationality coming from southern China, Tibet and Burma, known as "hill tribes". A lot of Chinese people are in the cities and on the south of Thailand, accounting in total for about 10% of the population.
Religion:
Most of the population adheres to Theravada Buddhism, Chinese then to the Mahayana Buddhism. Buddhism here is up to 94%. Islam is then prevalent in the south of the country and accounting for 4%, as well as Christianity.
Language and dictionary:
Thai is the official language, but you can also use other languages here, as: English, Chinese and Malay.
| | |
| --- | --- |
| Hello | Sawaddee krab (for man) |
| | Sawaddee ka (pro woman) |
| Bye | La kon |
| How are you? | Sabai dee mai? |
| I am good. | Sabai dee krab / ka |
| Yes | Chay |
| No | Mai chay |
| Thank you | Kob khun krab / ka |
| I am sorry | Sier jai |
| Please | Karuna |
| Where are the toilets? | Hong num tee nai? |
| How much? | Town rai? |
| Money | Nguen, Satang |
| Cheap | Mai aw |
| Expensive | Paeng |
| Airport | Sanam bin |
| Water | Nam |
| Food | Ahan |
| Fried Thai style noodles | Phat thaj |
| Fruit | Phonlamai |
| Chili peppers | Phrik |
| Beer | Bíja |
| Tea | Čá |
| Cafe | Káfé |
| Chicken | Jak |
| Rice | Khao |
| Chopsticks | Ta kýjap |
| Market | Talád |
| Floating market | Talád nam |
| Beach | Čajhát, Hát |
| Pharmacy | Rán kháj já |
| Big | Jaj |
| Small | Lek |
| Lot of | Mák |
| City | Múang |
| Village | Mú bán |
| Island | Ko |
| Luggage | Krapáo |
| Car | Rot jon |
| Post stamp | Satém |
| Buy | Sú khóng |
| Can I take pictures? | Táj rúp daj maj? |
| Massage | Nuat |
| Police | Tamruat |
| Bank | Thanákhán |
| Phone | Thórasap |
| Condom | Thung jáng anámai |
Numbers:
| | |
| --- | --- |
| 1 | Song |
| 2 | Nueng |
| 3 | Sam |
| 4 | See |
| 5 | Ha |
| 6 | Hok |
| 7 | Jed |
| 8 | Pad |
| 9 | Gaaw |
| 10 | Sib |
| 100 | Nueng roi |
| 1000 | Nueng pan |
Time Zone:
+ 6 hours to Central European time (during summer time in Europe + 5 hours).
Currency and Money:
The Thai currency is Bath
1 THB = 100 satang
In circulation are banknotes of 20, 50, 100, 500 and 1000 THB, coins are worth 25 and 50 satang and 1, 5 and 10 THB.
The best exchange rates have small exchange offices and banks.
Thai Economy:
Thailand is still among the less developing countries. It focuses primarily on export, which leads to the rapid growth of the country's GDP, mainly due to the industry (textiles, electronics, automobiles, etc.). Thailand is the world's leading exporter of rice. In tourism Thailand is a world power, in year 2011 this country visited around 20 million tourists.
The behavior of a Thai customs:
Everyone surely knows that Thailand is characterized by its tolerance and hospitality, so adjusting to the habits of Thailand is not usually a problem. When behavior is concerned, everyone should behave with their intellect and decent manners and do only those things which you are sure that you avoid potential problems. Definitely as a tourist you must have respect for the royal family. The cinema always plays the royal anthem, which requires everyone to stand up. Never insult the monarchy, for example, do not write on the notes or do not crush them, avoid any insulting the king, keep showing respect for all the Buddhas (he is sacred), etc. , only this way you will prevent possible prosecution. In Bangkok is a way of life very similar to the west, so there is not much need to watch what behavior is concerned, however what is permitted in Bangkok is no longer acceptable mostly in rural areas (villages), where there are Thai habits, such as greeting with hands together as in prayer with light slant head. Greetings are easy to get used to from locals. Thais enjoy their thanksgiving and give thanks for everything completely, calmly several times. You will never see Thais in any angry or bad mood so try keep yourself always in a good mood and leave the angry face at home, you're on vacation… Even if you disagree with something, try to keep smiling.
Flag, emblem and anthem:
Three colors of the Thai flag symbolize the three pillars of the Thai nation:
Red – represents the country
White – represents Buddhism
Blue – represents the monarchy
The national emblem and national royal symbol is Garuda, it is a mythical figure representing half of the bird and half human figure. Garuda decorates the royal scepter.
Thai national anthem is played every day in the morning (8:00 am) and evening (6.00 pm) on the radio, on television and in all public areas. In schools, the children begin each day by righting flag and playing the national anthem.
Thais have also a royal anthem, which is played at all the royal ceremonies and if you going to the cinema, it is played before each film. If this happens to you, you must stand up and pay tribute.
Shopping in Thailand:
In Thailand is very good shopping, thanks to the price level in the country. You can get from here myriads of attractive souvenirs (from wood, plastic, the glue, from the manual paper, etc.). There is the possibility to buy precious stones, especially sapphires and rubies. Thailand is great seller for copies of handbags, clothes, belts, shoes, watches, etc. Here is a great value for silk – scarves, blouses, ties, etc. It is worth it to come here just with a half- filled suitcase, because you will take from here a heap of clothing. Marketplaces here are absolutely everywhere. The export of antiques and religious items is possible only with a permit; it is also not allowed to export large shells and corals which are protected. The specialty is custom tailoring especially in Pattaya, Phuket, Krabi, Ko Samui and Phi Phi, where mostly Indian tailors makes a suit or dress in just a few hours or days for profitable prices. When you go shopping in the markets you have to negotiate, even up to a third of the original price. In the shops and shopping malls the prices are fixed. When you buy items over a certain amount, better trades offers refund of value added tax while you are paying ("tax refund"). Some grocery stores and basic drugstore products like "7 – Eleven" are open nonstop.
Clothing in Thailand:
In Thailand is advisable to take light cotton clothing. In the evenings, mornings and in the colder months long sleeve clothing is recommended. When you will want to visit temples it is necessary to ensure quietness and to have on hand at least a scarf. In to the temples you then enter barefoot. Topless sunbathing is allowed, but skinny dipping is not allowed.
Food and Drinks:
Thai cuisine is world famous. It is famous for its exotic combinations, really spicy and hot dishes. It belongs to the best cuisine in the world. Common ingredients are for example, several kinds of basil, onion, lemon grass, citrus, garlic, hot pepper, cloves, cardamom, coriander, mint, mandarin, nutmeg, pandan leaves, sesame, cinnamon, ginger, mushrooms, etc. Pepper and salt is replaced by fish sauce. Really spicy foods tend to be identified as "very hot" for tourists. The main meals consist for example of soup with ginger and coconut milk, chicken or pork, fish and seafood. The predominant attachments are rice and rice noodles, tapioca, soy beans, corn, etc. Specialties from marketplaces taste with regard to cooking and sanitary conditions of the place. Never eat anything raw, fruit or vegetables. Omit all you can peel or wash in drinking water. Any intestinal problems are not worth it. Thai special dishes are fried beetles, larvae, worms and grasshoppers, which is the normal range in street stalls, then fried squid (cephalopod species), shrimp, and for dessert, sweet rice (with coconut milk, banana, grated coconut and sugar cane). Favorites are fried bananas, banana pancakes, rice with mango, Thai donuts or ice cream from coconut milk and sugar cane. There is a wide range all year-round of seasonal fruits and vegetables, some species you will be tasting for the first time in your life.
Regular Thai beer is Singha and Chang. Thai rice whiskey is called Mekong, rum from sugar cane is Sang Thip. Wine Thais do not drink too much. Juices made from fresh fruits and also fruit milk cocktails are excelllent. Coconut milk is created by squeezing coconut or copra marrow. It expands the menu of Thai tea, one of the "alternative crops", the government is promoting the cultivation under the suppression of the production of the opium poppy. The prevailing green tea with proven medicinal effects of tea "oolongs" from partially fermented leaves reduces fatigue.
Electricity:
The voltage is 220/230 V. Plugs are combined US-European type. They can be used with adapter with two flat prongs or Czech fork plug with two pins without grounding.
Vaccination and health:
When entering Thailand there is no requirement for any vaccination. However you can be vaccinated against hepatitis A (can be also B), as well as you travel to any another climatic zone. In tourist centres is practically negligible probability of tropical diseases such as malaria, therefore prophylaxis by antimalarics is not generally recommended. Medical care in Thailand is at a very high level. Of course it is highly recommended to have travel insurance to avoid any potential problems, as in the case of some of your accident, lost luggage, or even if you yourself cause someone some damage.
Important telephone numbers:
– The telephone area code to Thailand is +66
– Traffic police: 1193
– Firefighters: 199
– Tourist Police: 1155
– Ambulance: 1554 or 1669 (free call)
Visas and Embassies:
For a trip to Thailand you need a passport valid for at least six months after your return. Visa will be granted to you on the spot upon arrival in the airport ("visa on arrival"). This visa is valid for 30 days. In the case of a longer stay, you must apply for a longer visa before departure on Thai Embassy.
Thai Embassy in Czech Republic:
Romaina Rollanda 3/481, 16000 Praha 6- Bubenec
Tel.: (+420) 220570055, (+420) 220570055, 220571435, 220571735, 220571738
Fax: (+420) 220570049
E-mail: info@thaiembassy.cz
Visa/legislation/Thai matters: consular@thaiembassy.cz
http://www.thaiembassy.cz
Operating time:
09.00 – 12.30
14.00 – 17.00
Embassy of the Czech Republic in Thailand:
71/6 Ruam Rudee Soi 2, Ploenchit Rd., 10330 Bangkok
Tel.: (+66) 22509223, 22509224
Fax: (+66) 22554978, 22509225
Nouzová linka: (+66) 22554978, 22509225
E-mail: bangkok@embassy.mzv.cz
www.mzv.cz/bangkok